Note that gpx2img has not been updated in a few years. Although the majority of users still find gpx2img works great for them, we recommend using our
Trial version
before purchasing to ensure compatibility with your gps device.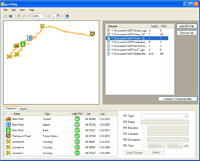 Note for current users: The self-updating code built into versions of gpx2img prior to 1.0.5.2 might fail when performing update. To solve this issue, please restart your computer (or kill gpx2img.exe in your task manager) and download and install the latest version of gpx2img from this site. Version 1.0.5.2 will hopefully solve all auto-updating issues.
Sorry for any inconvenience! - Joel
Have you tried converting a GPX file to an IMG file for loading onto your GPS unit manually before? Although it is possible using free tools, unless you have a couple days to kill, don't mind reading documentation spread across 10 different websites and have a good understanding of command lines and the way Garmin maps are setup internally, it is not an easy task!
GPX2IMG can load your GPX files into Mapsource as transparent maps uploadable to your Garmin GPS in as little as 2 simple steps compared to the 10-15 complex steps most other methods require!
All you need to do is open your GPX files in GPX2IMG and click the convert button! Your maps are then converted into IMG files and loaded into MapSource for you. No need to mess with the registry or anything yourself!
File Size: 3.21 MB
Last Update: Jan 10, 2012
Version: 1.0.5.2
Change Log