Wow! Was it really almost a month ago I published the last blog about my current plans for gpx2img? Hard to believe.
Well, as promised I've got a preview of the multiple map product support that has been requested by so many of you. As mentioned, this will allow you to split your maps into separate items in the Mapsource drop-down menu. So for example, you can have one mapset containing your logging roads, one with your hiking trails, one with your sledding trails and one with your off-roading trails. This will make it much easier to choose the type of tracks you want to upload depending on the season, etc and also allow you better control on the GPS itself which maps are displayed (you can turn on/off whole mapsets on most Garmin GPS units).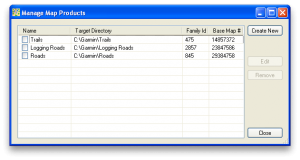 The Mapset Manager allows you to add/remove and edit the mapsets you create. Allows you to set the family ID and base map number for the mapset you create.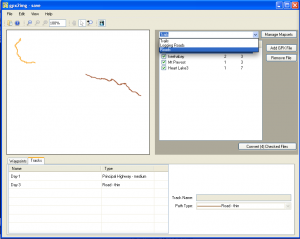 Added a new drop-down menu above the gpx file listing allowing you to choose which mapset you are working on and add/remove gpx files that mapset.
There is still work to be done on the conversion side of the program and details to clean up. Especially making it fully compatible with TYP files which are tied to a single family ID. So I will need to dynamically change the TYP file to make it work with any/all of the mapsets.
Another big change that was easiest to include with the above changes is the ability to save mapsets and gpx files into a single file called a 'g2i' file. Now rather than working directly on the GPX files on your computer, gpx2img will load them into it's own local copy and work on them there. A huge benefit of this for many users will be the ability to send the g2i file to anyone with gpx2img and they can open it with all changes and just hit the convert button. This will make sharing your maps with others much simpler! (There are a few other possibilities that this also creates, but I'll leave those for the future..)
So that was the preview of multiple mapsets in gpx2img. I hope to have this released in a couple weeks, but make no promises.
What do you think? Will it be a useful feature? How do you envision using the new features discussed above? Leave a comment and let me know!
UPDATE – March 31, 2011 Obviously I'm a bit behind in my planned schedule for this feature. Other aspects of my business have taken over much of the time I was spending on gpx2img. I aim to have more time to work on gpx2img in April and will hopefully be able to get a new version with the feature out the door soon. Thanks for your patience!